Tilly's Travels on t' Internet November 22 Edition:
Hello and welcome to the November edition of Tilly's Travels on t' Internet; a collection of the latest news from the world of vending and cashless payment systems.
We are now at the November issue! And I find myself asking where has this year gone? With Christmas right around the corner, dark nights drawing in and of course, the latest stories from the world of vending. So, are you sitting comfortably? Then we'll begin. This month we have vending machines enabling charity donations, entertainment giants Netflix using vending to promote a creepy new show, and a new vending machine to assist your baking need. Oh and a heads up: if you don't like references to blood, beware…
Let's start in Asia. Japan has always been technologically advanced and their vending industry is no different. This month's latest discovery is none other than cake in a can! With various flavours, including custard, matcha and shortcake, with fruit and cream layers between. Out of all the Japanese vending discoveries I have made, this is my favourite! And I hope to see a flavour expansion. Check out the video! Which flavour would you go for?
Sustainability has been a continuous hot topic amongst the world of vending in recent times, and a vending machine in India has taken the next step to reduce plastic waste. Nashik, a city in India has replaced plastic bags with cloth bags in a bid to reduce plastic waste being disposed in local rivers. This appears to be a great idea, Is this something you would like to see in the UK? Let us know in the comments!
From one form of sustainability to the next, this time involving old mobile phones. The company is named Refurbished Smart-Phone Revolution. The aim of the company is to transform electrical waste and re-sell the products, with sites now across Europe. The resold phones not only help the environment, but also help your pocket, as the refurbished phones are significantly cheaper and come with a 12 Month Warranty. Click here to read about it, including prices and phone models.
Vending machines selling dairy products appear to be the latest craze spreading throughout the UK. Since the pandemic, some farms have found selling dairy products through vending has generated more profit and now Manor Farm in Swindon has hopped on the trend, opening a vending machine named Moo on Thames. They sell organic fresh milk and milkshakes of various flavours, as well as other produce from the farm. Read further here, for all products, produce and the story so far. 
From one type of fresh produce to another, the Czech Republic has had the debut of their first fresh veg vending machine. The machine is named Bramat, offering various fresh vegetable produce in 3- or 5-kilogram bags. Is this something we should have more of in the UK? It may be a way of boosting our local farmers' economy. Take a look over here.
On the topic of supporting local farmers, UK bakers have something exciting to look forward to, with the introduction of Fresh Flour vending machines! Choyal Group are looking to develop relationships between farmers and bakers, using what has been named the Floura. Stocked with various grains, and bags weighing 2kg or 5kg. These machines are hoping to be rolled out in various locations, including supermarkets, bakeries and mills. So, to any budding bakers reading this. Would you purchase flour from the Floura?
The vending industry has many types of entrepreneurs, from huge corporations to youngsters starting a side-hustle, but at what point does a vending machine grow to the point that it is best to create a micro-market? Well, ask and you shall receive. Micro-Markets function slightly differently, often used as canteen spaces in workplaces and give suppliers more room to offer a greater range of products. They are said to be the future of the dinner break and may be a sound investment. For more examples, benefits and useful information. Take a look here.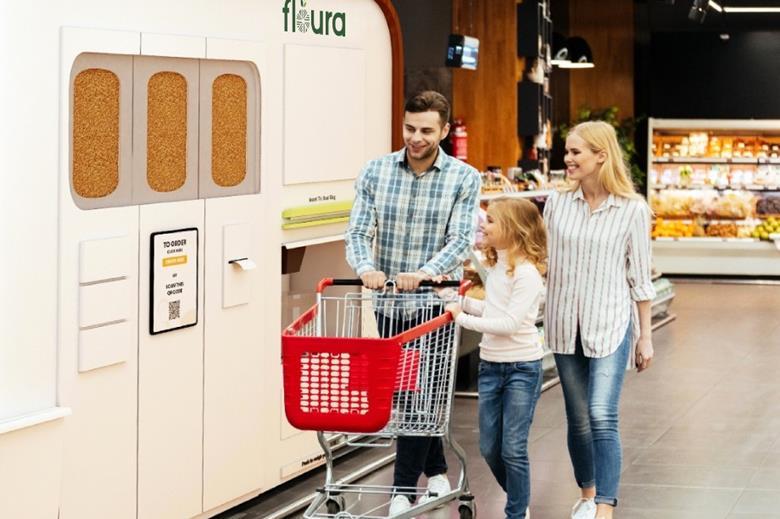 Now, I don't know about you, but some advertising companies have used strange methods to promote upcoming TV shows, but have you ever heard of "human hearts" in a vending machine? Netflix has created a vending machine to advertise the new and upcoming show, The Bastard Son and The Devil Himself. The vending machine was unveiled at Comic Con in London and was designed by Bogle Bartle Hegarty. So, do you think this is a good advertising move?
Ending this month on a positive high, myNTF has raised £3900 for the charities Giveth and the Roald Dahl Children's Charity this month. The fundraising came from NTF unveiling their first physical vending machine. So, huge congratulations to MyNTF for their amazing fundraising. For all the glamorous details, take a look here.
So, that's all for Tilly's Travels On T'Internet November.  See you next month for the final issue of the year, and of course, the festive season! Hope you all enjoyed this post. Please let me know your opinions in the comments.
PV's growing archive of Tilly's Travels is HERE