Nayax Webinar: 'Cashless Payments Before, During And After Covid-19'
Tuesday September 22, 2020
13:00 BST
In the recent Past you may have concluded, 'this is not for me'; but as the reach of cashless payments extends at an ever increasing pace, you might want to make time to learn more about payment trends for the unattended industry by participating in the latest Nayax Webinar, entitled 'Cashless Payments: before, during and after Covid-19'.
The lead presenter will be Domenico Paparella, (pictured left),who is 'Director, Business Development Acceptance Europe', for payment giant Mastercard. He has called his presentation, 'Beyond cashless: a world of opportunities for unattended retail businesses'.
'As a leading global payment processor for unattended retail operations, we're always looking for ways to improve our customers' payment experiences', Lewis Zimbler told PV. 'In line with that mission, we're offering this Nayax Webinar as a forum to discuss the increased rise in cashless payment usage by consumers, on the heels of the COVID-19 pandemic. On top of that, the event will consider what unattended retail operators can expect, as countries begin to re-open and try to return to normalcy.'
In that scenario, it's likely that the unattended business sector is set for significant growth, thanks in no small part to the wholesale implementation of cashless payments, whether they be traditional credit/debit cards, mobile apps, QR scans, or peer-to-peer payments.
'I'm sure that the content of the Nayax Webinar will be applicable for businesses operating in unattended retail, in various industries, throughout the EU. Vending operators should certainly aim to be part of it', Lewis said.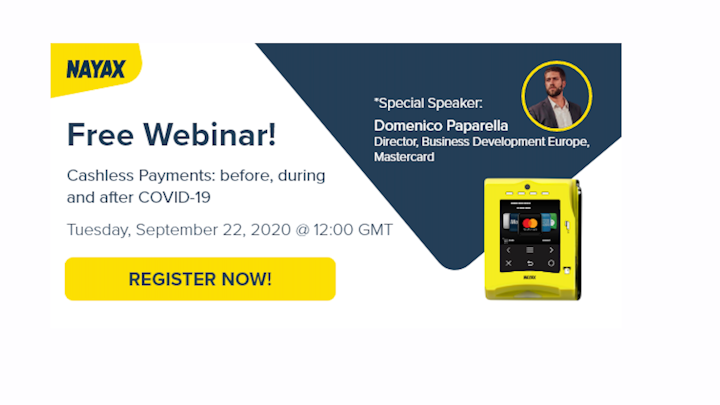 The Nayax Webinar comes at an opportune moment in the evolution of vending. As our Editor Ian Reynolds-Young noted in his article 'Cashless Transactions: Their Rising Prevalence Is Driven By One Imperative Alone – Consumer Demand', (read it HERE), 'in our vending and unattended retail microcosm, one of the implications of COVID-19 is that more and more operators are reconciled to the fact that cashless transactions are the way ahead for their businesses. For many, it's the ultimate 'no brainer'. 'Dirty money' is a tag that's going to remain with us as surely as a red wine stain on a beige carpet: we could scrub and scrub until our arms ache; but that'd be nothing more than an exercise in futility.'
The pre-eminence of cashless as the consumer's payment method of choice broke new ground in 2019; a year in which, for the first time, cash was used for less than a quarter of all payments. John Howells the Chief Executive of Link, confirms that the 'dash from cash' has accelerated as the New Normal of living with COVID-19 began to emerge. 'Over the past five months, (to June 2020) we have seen reductions in ATM volumes that were expected over five years,' he said, adding: 'During the lockdown, we have seen a large drop in ATM volumes – down by 55 per cent. Link research shows because of coronavirus, 54 per cent of consumers say they will use cards more and a third say they will use ATMs less.'
The Nayax Webinar, featuring, in Domenico Paparella, an expert who knows better than most where the 'cashless' train is headed, should be a 'must' for any business that accepts cashless payments,  let alone those that don't – yet…
You can register for the Nayax Webinar HERE
More Nayax stories in Planet Vending, HERE