By Craig Jukes, Sales Director, Evoca UK
Coffee machines intended for use in the OCS and HoReCa markets, which use fresh milk to recreate the coffee shop experience, can be divided into two categories: those that were designed from the get-go to use fresh milk, and those whose fresh milk capability has been 'bolted on' to a machine that was originally designed for another purpose.
Evoca coffee machines come into the former classification. They have been designed specifically to deliver the cappuccinos, flat whites and lattes that consumers demand and, what's more, they are prepared to pay a premium price to enjoy.
Let's take a look at two of our brands and specifically, two coffee machines that epitomise Evoca's commitment to bringing coffee shop quality to places of work, leisure, education and – naturally – coffee shops!
Kalea Plus, from Necta is a fully-automatic fresh milk machine.  With Kalea Plus, authentic Italian espresso based drinks are no longer the exclusive preserve of skilled baristas.
What's more, Kalea Plus is both user and operator friendly. The interface is attractive to look at and intuitive to navigate, making using the machine a real pleasure. Likewise operators welcome the ease with which the machine can be customised for each location and Kalea Plus's modular design makes access to components easier than ever; so replacing parts is a breeze, as is day-to-day maintenance. Say goodbye to the dreaded 'out of order' sign!
That's why Florina Barbulescu, of ConviStore , selected Kalea Plus to be the centrepiece of 'Convi Store'. 'We positioned ConviStore as a true catering offer, rather than a modified system of product vending', she said. 'ConviStore can provide consumers with everything from a full-scale dining experience, to a 'High Street' coffee shop, centered on great coffee.'
'Centred on great coffee…'
'It's as good an example of completely joined-up thinking as anything in the coffee marketplace right now', Florina said. 'We've gone to so much trouble to create an offer that delivers excellent quality meals, day and night; so when it comes to coffee, we can't settle for second best. For ConviStore, it has to be Necta's Kalea Plus.'
La Radiosa, from Gaggia Milano, is aimed squarely at the retail marketplace. It is an exemplar of Gaggia's strategy of the constant innovation and product development for which this iconic Italian coffee machine brand is noted.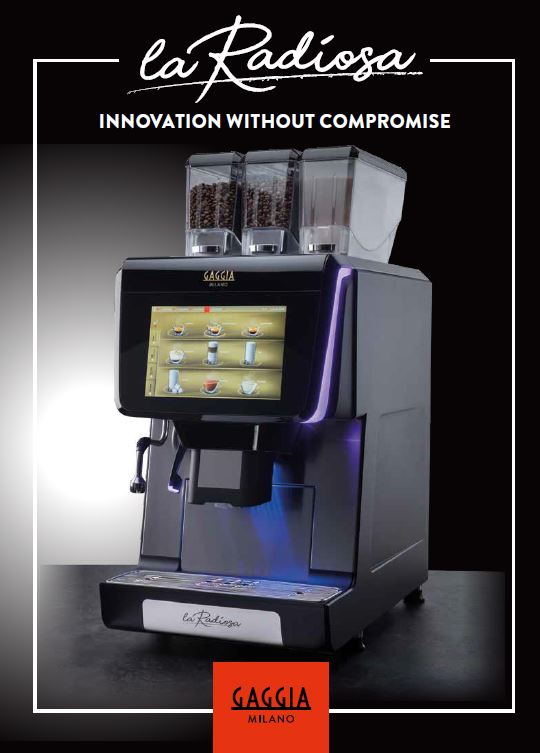 Fully automatic, La Radiosa, is brimming with ground-breaking features. Consumers can now help themselves to their favourite drinks from a coffee machine that's located front and centre of a breakout area, rather than behind a coffee bar, the reserve of professional hands.
Gaggia Evomilk technology allows operators to set-up various doses, temperatures and densities of fresh milk. Thanks to this new technology, unique coffee drinks can be created with hot or cold foamed milk: and if you add a drop of syrup to the cold milk, a frothy, flavoured milk shake could be yours!
Worried about cleanliness? Gaggia Evomilk features an innovative milk system cleaning cycle: through an intuitive plug & play procedure, so La Radiosa cleans itself automatically, using specific NSF-approved detergents.
Gaggia La Radiosa was the most eagerly anticipated, oversubscribed coffee machine Evoca UK has ever launched. The first delivery of the machine was sold out even before it arrived on these shores and no wonder: it offers considerable cost-savings over comparable 'competitive' products. That's why La Radiosa has become the go-to machine for those who insist upon a premium fresh milk experience,
So, what's it to be? A machine that's been adapted to use fresh milk, or a machine that has the creation of fresh milk drinks as its raison d'être? When you think about it, it's not a difficult decision to make, is it?
Consult Planet Vending's Evoca archive, HERE