Rustlers: One of the advantages incumbent in micro markets is the opportunity to offer a much wider range of products to consumers at their place of work. More products for sale leads to increased revenue for operators, but there is another consequence of the expanded offer: products that would never have been considered for sale in the vending space are suddenly on the agenda. Those suppliers with a nose for an opportunity have already been knocking on the door and many of them have been delighted by the incremental business that's come their way as a result.
Take Rustlers, for instance. Rustlers is owned by Kepak Group, one of Europe's leading meat processors and one of the largest food brands in the UK. Since launching in 1999, Rustlers has achieved over 21 years of sustained growth to become the UK's No.1 Chilled Ready Meals brand.
Rustlers' first move into the unattended retail space was to identify a trustworthy partner. Micro Market leader 365 got the nod. 'From the first conversation with Jeff Veres, 365's Program Manager for the UK and Europe—and the rest of the team at 365 – we knew that Rustlers had found the perfect partner to support us in our mission to become the market-leading brand within this area, in addition to the class-leading position we've already cemented in UK Retail market', said Carl Hunter, Rustlers' Field Sales & National Account Manager – Food Division. 
'365's PicoCooler was the perfect fit for us' Carl added. 'The opportunity to deliver strong, impactful branding was a pre-requisite for us, and the possibility to integrate our 'heat to eat' concept convinced us that, with PicoCooler, we could easily provide a fully rounded, automated retail solution, for a variety of environments going forward.'
Since partnering with 365, Rustlers has been able to initiate and pursue numerous opportunities. The company has been able to 'have conversations' and secure business, in areas that had never been considered before. This is already having a positive effect with Rustlers' long-term planning.
We asked Carl what advice he would offer other operators who might benefit from a similar opportunity. 'Research the opportunities first', he said. 'Gather your information and make sure it's the right thing to do for your business. Ultimately, does it make sense for you to do this and does it promise longevity?
'Pico-Cooler has proved itself as an innovative self-service solution that meets consumers' needs' Carl said. 'It hasprovided us with a significant opportunity to expand the reach of our business and our brands, thanks to the versatility of its access-controlled, self-checkout system, which keeps coolers locked and temperatures controlled.'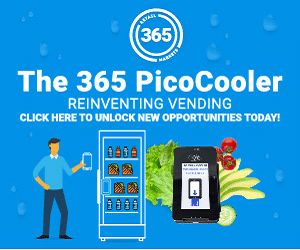 'When our partners share success stories, like this one from Rustlers', Jeff Veres said, 'it not only confirms our mission to help facilitate foodservice operator's success and meet consumer snacking and meal needs, it also demonstrates that 365 is continuing to revolutionize the foodservice industry around the world, one market at a time.'
Want to know more about 365? PV's archive of 365 news and information is HERE