Following a call for evidence about digital payments from HM Treasury, David Llewellyn, CE of the AVA, argues that the move to cashless vending should be allowed to remain organic, rather than made the target of legislation.
In March of his year, the treasury called for evidence about digital payments in the economy. This was done against a backdrop of a change in purchasing habits. Cash sales have fallen from 62% of all transactions in 2006, to 40% in 2016 – When you take into account online commerce, then you find that 64% of all retail sales made in 2016 were completed without cash. What's more significant, perhaps, is that when you isolate the Under 35's, the figure rises to 70%.
So there's no doubt the UK is on the road to cashless, it's just a matter of time; so why accelerate the process artificially?
HM Treasury's call for evidence
Reading between the lines in the document that accompanied HM Treasury's call for evidence, there's a real danger that that's what they have in mind…
The vast majority of the 20 odd pages in the document is a call for our thoughts on how to makes things better and so on, but then, hidden away near the end, is a relatively small section called 'Tackling Money Laundering'. Here, it's made crystal clear that the government aren't keen on people continuing to use cash, because the chances are those who do are not above playing fast and loose with the taxman. And this is probably what all this 'call for evidence' is really about.
The emphasis is on 'creating and enhancing new communications systems within the new economy' and it's true: thanks largely to the Internet of Things, everything that needs to be done to run a business can now be achieved without recourse to cash.
HM Treasury: let's be wary of its way of thinking…
But the treasury has another agenda and that is to prevent people from paying less in tax than they ought to. We have to be very wary of that way of thinking, because it could lead to legislation that takes us towards 'cashless' more speedily than is good for us.
The government has evidently done its research into the way these things are being handled elsewhere and they've looked specifically at vending. In Italy, they discovered that all vending machines in use have to be registered with the Italian equivalent of HMRC. They have to have a QR code stamped on them so they can be audited and they have to report, on a monthly basis, the sales through the machines.
They don't insist that all the machines have to be connected, so long as the information is provided. Some operators collect the required information through their cashless payment systems, others through telemetry and others have to download the data or record it. At the end of the month, though, by hook or by crook, the operator is required to submit a set of numbers. Just to be clear, that's every vending machine in Italy reporting to government every month. I don't know, but I'd guess that there are one or two machines out there that haven't been registered!
Through talking to our EVA colleagues, we've learned what's happening in the German vending industry. Right now, there's legislation going through the Bundestag that will require that every cash register – and this includes vending machines – is connected to a central system where its sales will be recorded. That's telemetry at its most basic, but whether this is something that's going to be run independently or managed separately is unclear. What's for sure is all the data will be delivered to the German equivalent of HMRC.
Then in Catalonia in Spain, they're trying to set up some trials at the moment for a system that will enable every consumer to have a printed receipt for every purchase made from a vending machine. The trouble with that idea is that the technology to achieve that doesn't actually exist at the moment!
We could file all this activity under 'the fiscalisation of vending machines': call it what you will, something that'll leave a bad taste in the mouths of UK operators is coming sooner or later – it's just a matter of time.
AVA's concern at the UK government's 'call for evidence' is that the vending industry is very much on their radar.
We don't dispute that there is a benefit to the new technology; in being cashless, connected, in the IoT and all that. It's been proved to work well for operators so it's understandable that more and more of them are implementing it. But let's take a quick reality check: if you just take cashless as an example, at the moment fewer than 12% of machines in the UK market are equipped with card readers. That figure does vary widely by the type of operators. Some of the larger, national operators tell us that around 88% of their machines can take both card and cash. Interestingly, one of the largest operators reports that although more than 80% of their machines are card readers equipped, more than 60% of transactions on those machines are still cash.
Based on these figures, and the fact that there are just over half a million vending machines in the UK, if the treasury was to decide that 'cashless is a great thing and we'll do it next year', the cost of our industry to comply with that would be on the region of £170m – and that after we've just had to cough up £32m to accept the new £1 coin.
Admittedly, if we all go cashless and they change the coins again, then it won't matter to us – so there are benefits from not having to handle cash. The trouble is that society simply isn't quite there yet.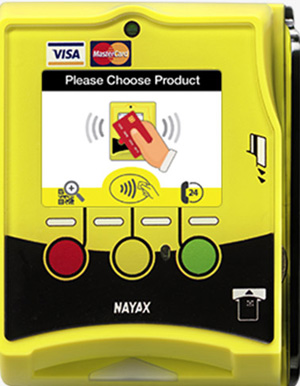 Part of our response to HM Treasury was a plea for them to look closely at our numbers and appreciate what the cost of an immediate turnover to cashless would be to our industry. We hope that, like us, they'll conclude that it'd be much better to allow the process to happen organically, in its own time, rather than to try and force it.
It won't be long in coming. For the past 8 years, one of Europe's leading vending operating companies has had a specific policy in place to put card readers on machines, by retrofitting existing machines and buying new ones with the readers in place. Why? Because a lot of their business is conducted on 'open' sites and apparently, when we're out and about enjoying ourselves, we're less likely to carry cash with us.
However, the fact is that 80% plus of the UK's vending machines are located in work place sites. At work, purchases typically are planned, because staff know the machines are there. In the public places, though, it's all about impulse purchases. If you haven't got the cash in your purse or pocket, then the option to buy is removed. On the other hand if you can just tap and go, then you're more likely to buy.
I don't want to give the impression that the AVA's attitude to modern technology and social mores is all doom and gloom, its not. Rather, it's about tempering the potential benefits of what can be done with an understanding of the potential dangers that might accompany them.
Further Reading
Are you part of the AVA as it works to protect the interest of the UK's vending industry? If not, find out how you can join our official trade association by clicking HERE
Planet Vending's AVA Archive is HERE
HM Treasury
HM Treasury
HM Treasury