Tilly's Travels on t' Internet March :  Welcome to Tilly's travels on t' Internet, a collection of interesting news stories from the world of vending, micro markets and OCS.
March – the beginning of Spring, longer days and more innovations in the wonderful world of vending. This month, we have stories including ways in which vending can become more sustainable, the increasing popularity of book vending machines and – love this one – designer handbags available 24 hours a day.
Let's kick off in Kuala Lumpar, where a canny operator is providing vending machines that sell over the counter medications. With 100 installations scheduled for various locations, such as universities, housing estates and petrol stations, is this something that might be appreciated in the UK? Who needs to drive miles to the duty chemist if there's a machine on your high street? It's worth keeping an eye on it, that's for sure. FYI, the concept is called RoyalePharma 24/7.
Tilly's Travels on t'Internet March : There has been an increase of vending machines providing books and judging by the volume sold, (sorry about that), book vending machines are becoming something of a global phenomenon. It makes you wonder about the future of libraries, for a start. As the services offer a contactless way of purchasing books, and limits interaction, it's the perfect post covid initiative.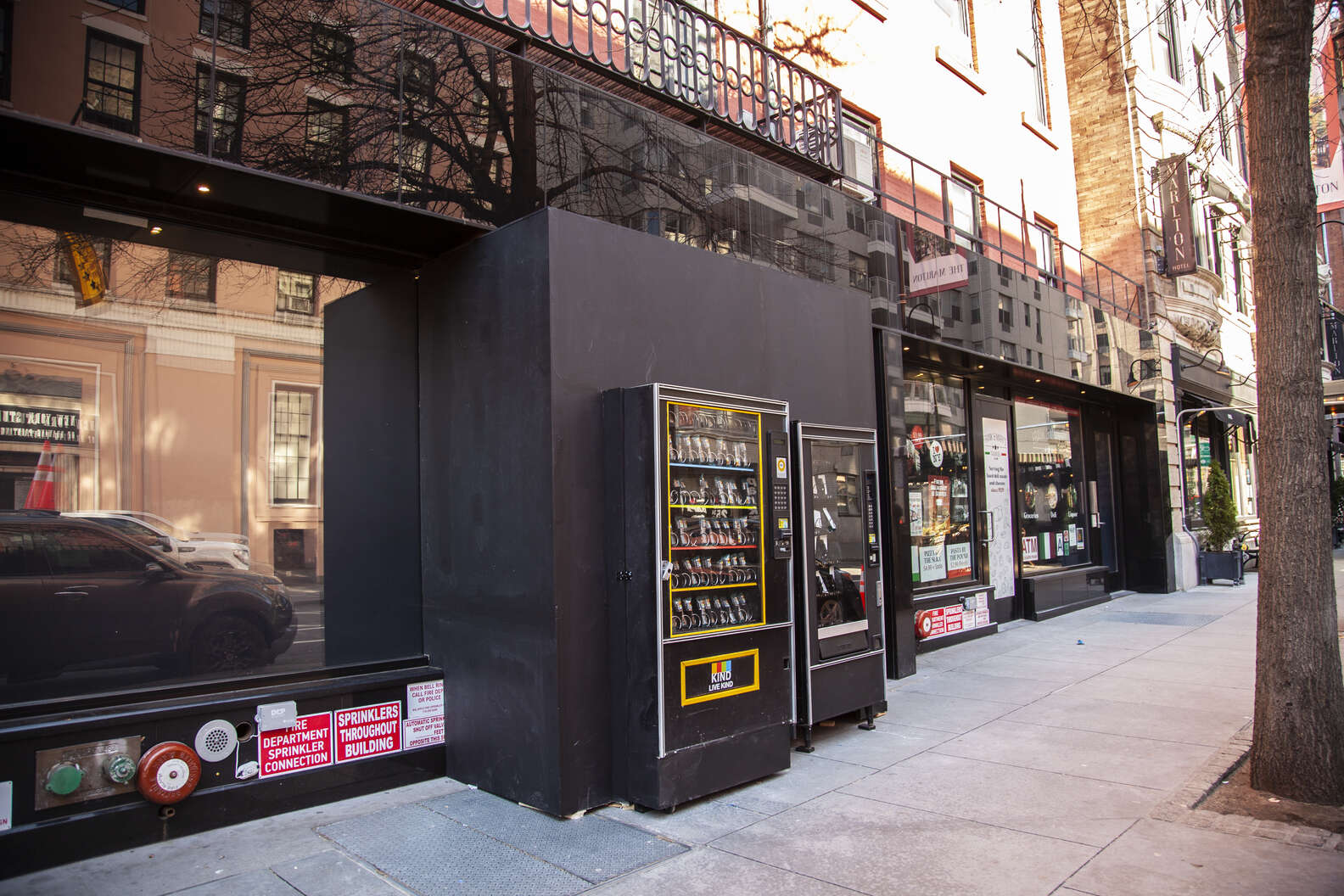 In this month's 'strangest things to be found in a vending machine', snippet, it's not so much a product that caught my eye as what can be found behind the machine. Intrigued? Well,  in New York City's West Village, KIND, a healthy snack brand that's big in the Big Apple, has installed a vending machine. The thing is, when you are tempted to buy, you don't actually get one of the company's famous bars… Instead, the machine opens up to reveal an array of produce, for instance nuts, vegetables and fresh fruit, which are free to take away. Anyone else heard of anything like this? Thought not.   Take a look!
Tilly's Travels on t'Internet March
Selecta has announced a new automated store in Belgium. The concept of the store is "shop and go" and it is said to be a hassle free experience for consumers. All you have to do is scan your payment card, pick your favourite products and leave. Is this the future of on the go purchasing?
Food in vending can be inaccessible to some individuals because of dietary issues. Istanbul Airport has announced a new vending machine providing Kosher meals for the Jewish community. Good idea!  Vending machines like this would provide much needed inclusivity for travellers, regardless of their religious commitments. Is this something that we should consider to implement world wide?
The world never ceases to amaze with its technological leaps –  but who predicted that a robot would be set up to deliver a vending service? The Tortoise manages the job of a vending machine and a store assistant in one, and it takes up to $100 per hour. Watch this space for more robotics entering the world of vending.
Meanwhile, what can vending businesses do to improve their carbon footprint? Can it be done through sustainable products, using less plastic packaging or reviewing sustainability goals on a regular basis?  Take a look at this interesting article from our buddies at Vending Times, HERE
Tilly's Travels on t'Internet March : Abu Dhabi has announced the introduction of healthy vending machines in health care facilities, as part of a phased plan that was set out in 2021. Products are specially selected and distributed throughout health care facilities in Abu Dhabi. Is this something that vending could use globally?
Designer brands have been using the hype around vending machines to sell their high quality products, at any time of day, in extravagant vending machines. Jaquemus has announced a new, all white, 24 hour vending machine, located in – you guessed it – Milano. Watch this space for future designers!
Finally, as this month marks International Women's Day, the most successful women in the vending industry have been recognised here in PV land, including Jane Macdonald, of Excel Vending, Louise Cummings of AVS and Michelle Hefferon of NIVO. Congratulations to all women who have been nominated and recognised. Here's to some of vending's most amazing women.
That's all for Tilly's Travels on t' Internet March! See you next month for more vending trivia.
More Tilly's Travels HERE on Planet Vending